In the Chinese zodiac, 2021 is the Year of the Ox! In honour of the Lunar New Year, enjoy these colouring pages designed by artist Christie Carrière, Co-Creative Director of Tea Base. Tea Base has been in residency with MOCA for the past few months, presenting virtual mahjong demonstrations and researching oral histories to create a living archive of grassroots endeavours by queer and BIPOC collectives in the neighbourhood.
Click on the images below to download the colouring pages or print them out at home:
Colouring Page 1: Year of the Ox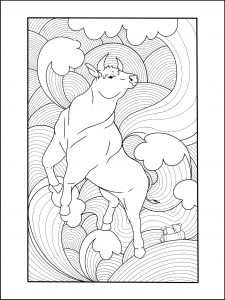 According to the old story, the ox was the second animal to make it across the river in a competition which would decide the twelve animals of the zodiac. The strong, hard-working ox would have made it to first place if the intelligent rat hadn't hitched a ride on their back, jumping off in front as they reached the riverbank. Give our ox friend some colourful fur! And fill in the crashing waves with some blue water, or maybe in lucky red, or maybe you want to create a bunch of tiny rainbows – whatever makes you happy!
Colouring Page 2: Mahjong Dragon
These illustrations are taken from Tea Base's Mahjong instruction booklet, (written by Florence Yee, edited by Hannia Cheng, and illustrated by Christie Carrière, during our residency with MOCA). The top part shows how we "wash the tiles," which actually has nothing to do with cleaning, and is what we call the method of mixing up all the tiles before distributing them to the players. Below is a diagram showing the objective of the game, which is to "build a dragon" out of a pair of matching tiles for the eyes, and four sets of three matching or ascending tiles for the body. Let's give our dragon friend some colourful scales!
About the Artist:
Christie Jia Wen Carrière (she/her), who also goes by Chris, is a painter, illustrator, rug-maker and artistically curious individual. Chris is intrigued by, and aims to explore through her work, the nuances of the in-between. In-between her own ethnic identities; in-between culture and familial nostalgia; community and alienation.
She is currently working as a painting instructor, a free-lance illustrator, as well as the Co-Creative Director at Tea Base, a grassroots community arts space located in Chinatown. In this role, she has collaborated with Myseum, the AGO, The Gladstone Hotel, Mayworks, and others. She obtained her BFA in Drawing & Painting with an Art History minor from OCAD University.
Since March 2020, Chris has been living and working out of the 4 walls of her bedroom, which can be found somewhere in Tkaronto/Toronto. She is an Aquarius and an Earth Tiger.