Shift Key
Shift Key is a rotating platform of moving-image artworks shown exclusively on MOCA's website.
MOCA launched Shift Key in spring 2020 as a way to present and support more artists via our online platform and to expand our digital offerings. After curating the first 6 months, the MOCA team has invited guest curators to continue the programme with artworks that feel relevant at this moment and can be shared online to watch for free. The videos are currently posted for a period of one month. Thereafter an image and other materials remain, resulting in an archive, which exists below—in image and text—as a document of the conversations and relationships formed so far.
Shift Key is generously supported by Scotiabank.
February 2021–
Guest Curator: Native Art Department International
Protection Spells
February–July 2021
Native Art Department International (NADI) looks to begin 2021 by extending a different view of the social function of artists or artist groups; place and belonging. NADI is a long-term collaborative project created and administered by Toronto-based artists Jason Lujan and Maria Hupfield.
Three Point Nine Art Collective, Balck Magic, 2021: Ramekon O'Arwisters – Strength / The President's Chair, 10′42″; Rodney Ewing – Ritual / Game Theory Part 2, 6′26″; Ron Moultrie Saunders – Meditation / Meditate. Rejuvenate. Regenerate, 3′48″; Jacqueline Francis – Ritual / RUN, 3′24″;  S. Renée Jones – Ritual / In/to' Black, 3′29″.
In response to the current Shift Key theme, "Protection Spells"—"creating work that promotes a self-defined image of ourselves and thus a different view of the social function of artists or artist groups." We focused on our individual methods of protection and self-care during the twin pandemics of COVID-19 and racism. With this body of work titled Black Magic, we expressed and performed our arcana based on these words: Meditation. Ritual. Run. Strength. Each artist created personal narratives on how they thought of or utilized one of these terms in their lives. The films created by the collective members include personal narratives, contemplative practices, observations and performances. By working collectively and valuing our individuality, we are dismantling the ideas of monolithic experiences within our culture, and creating radical images of ourselves that are nuanced, reflective and poetic.
Ramekon O'Arwisters

 — Strength
The President's Chair, 2021
10′42″
The absurdity of American history is revealed in my fictional story about how my family came to acquire the President's Chair. Black America's supreme strength is never believing the lies masquerading as truth that White-body supremacists have propagandized for centuries.
Rodney Ewing
—
Ritual

Game Theory Part 2,
2021
6′26″
In my piece I am questioning the definition of ritual and how, for the BIPOC community, an imposed ritual that is used to control can easily transform into a game of chance and institutional trauma.
Ron Moultrie Saunders
—
Meditation

Meditate. Rejuvenate. Regenerate, 2021
3′48″
Committing to meditation creates space for me to contemplate, heal damaged parts and, to restore with vigor, to meet the challenges of the world with grace.
Running has been a lifelong ritual for me: it's exercise, meditation, self-care and self-protection. In this video, the slow jog symbolically documents the real-life actions of running "from," "toward, and even, "in place."
S. Renée Jones
—
Ritual

In/to' Black, 2021
3′29″
Being a child of the 60's I hold close and dear the Black Power movement. I've always used it as a ritual. This is one aspect of my experience.
Adapted from a multi-staged installation, Pacific Theatre (Act II) draws connections between wartime and migratory histories of Sino-American relations and the legacy of Asian representations on Western stage and screen. Against a chroma key green backdrop, two performers are masked in chroma key suits. They interact with various props including an empty chinoiserie-style folding screen and camouflage-patterned textiles developed for use in the pacific theatre landscapes of WWII and the Vietnam War. In this second act of three, the unkeyed screen becomes an expansive landscape for self-discovery and embodiment. Presented for the first time online at a moment of renewed yellow peril against the backdrop of a global pandemic, Hall asks how spaces for self-discovery can be created to counter superimposed narratives and representations.
Adrien Sun Hall (born 1990; lives in Toronto) works through sculpture, performance, and time-based media to explore concepts of transience and subjecthood across spaces of gender, landscape, and language. Hall holds a BLA in Landscape Architecture from the University of Guelph and an MFA in Visual Art from the University of Pennsylvania. Hall has exhibited and performed at Vox Populi, Fjord Gallery, and Icebox Project Space in Philadelphia, and David Nolan Gallery in New York. Hall was a resident artist at the Vermont Studio Center and co-curator of A/PUBLIC: an exhibition and gathering for queer Asian publics at the Kelly Writers House.
Performers: Connie Yu and Adrien Sun Hall
Etcétera Collective and THE MUSEUM OF NEO-EXTRACTIVISM (MNE)* presented a Letter For Buen Vivir (Good Living) at the United Nations Headquarters in Geneva, Switzerland. This live intervention was held in 2019, one year before the pandemic and the mutations of the COVID19 virus transformed the lives of societies around the world. Two directors of The MNE delivered this letter along with a petition to members of the United Nations Assembly and several departments in the building. The letter is written in the voice of Original Corn and the video is a summary of the 2019 action.
Formed in 1997 in Buenos Aires, Etcétera is a multidisciplinary collective composed of visual artists, poets, and performers. Since 2007 it has been led by co-founders Loreto Garín Guzmán (Chile) and Federico Zukerfeld (Argentina). In 2005, they were part of the founding of the International Errorist Movement, an international organization that proclaims error as a philosophy of life. In addition to participating in exhibitions in museums and biennials such as the biennials of Jakarta (2015), São Paulo (2014), Athens (2013), Istanbul (2009), and Taipei (2008), they often work with street-art, public interventions, actions, and performances that are necessarily contextual, ephemeral, and circumstantial. In 2015, they received the Prince Claus Award in the Netherlands. From 2020-2022 Etcétera is the Boris Lurie Fellow, at the Vera List Center, The New School with their fellowship project, NEO-EXTRA-ACTIVISM, Protocols for Buen Vivir. Their work has been recognized for its denouncement of human rights and environmental abuses through theatrical and poetic actions and statements often exercised at personal risk.
* THE MUSEUM OF NEO-EXTRACTIVISM (MNE) is a nomadic project that takes diverse formats based on the spaces, institutions and contexts it travels to. It arose from Etcétera collective's research on the so-called neo-extractivist model, its socio-environmental impact and the violations of human rights and those of other species. The Museum of Neo-Extractivism, works as a parody of a museum, mixing aesthetics of art, ethnographic and science museums. The MNE includes research, public interventions, exhibitions, publications, speeches, videos, interviews, and the creation of a collection.

Petition

Geneva, Switzerland, May 2019.
Representatives of the United Nations
In front of you, we are delivering this letter in which we ask that our rights be respected: human rights, the rights of other animal and plant species, bacteria and all living organisms that are part of the earth.
We ask that the friendship between farmers, Natives and plants be respected, for the protection of our and your species. Without us you do not exist, without food sovereignty friendship between nations is impossible.
By turning us into transgenic plant-life and spraying us with pesticides, the bees will not survive. With glyphosate, it's not just us who will mutate, you humans will be full of deformities, your stomachs will explode, your energy will be depleted, your minds will be more docile than today.
We, Original Corn, are against the criminalization of humans who help our species, enough of prohibitive laws, we are plants, free, original, diverse, our crops are free; respect article 21 voted by this human organism.
As long as there are humans moving away from anthropocentrism, we will continue to germinate. In each one who decides to protect us, in each wind that disperses our seeds, in each farmer who decides to cultivate us.
The earth is ours, but it is humans who cultivate it.
Version française

Pétition
Genève, Suisse, Mai 2019.
Représentants des Nations Unies
Devant vous, nous remettons cette lettre dans laquelle nous demandons que nos droits soient respectés: les droits humains, des autres espèces animales, végétales, les bactéries et tous les organismes vivants qui faisons partie de la terre.
Nous demandons que soit respectée l'amitié entre paysans, indigènes et végétaux, pour la sauvegarde de notre et votre espèces. Sans nous, vous n'existez pas, sans la souveraineté alimentaire l'amitié entre les nations est impossible. En nous convertissant au transgénique et en nous arrosant de pesticides, les abeilles ne survivront pas. Avec le glyphosate, ce n'est pas seulement nous qui muterons, vous autres, humains, serez plein de malformations, vos estomacs exploseront, votre énergie s'épuisera, vos esprits seront plus dociles encore qu'aujourd'hui.
Nous, Maïs originaux, nous sommes contre la criminalisation des humains qui aident notre espèce, basta de lois prohibitives, nous sommes des végétaux, libres, originaux, divers, nos semailles sont libres; respectent l'article 21 voté par cet organisme humain.
Chaque fois qu'il y aura des humains errant de l'anthropocentrisme, nous poursuivrons notre germination. Dans chacun qui décide de nous protéger, dans chaque vent qui disperse nos graines, dans chaque paysan qui décide de nous cultiver.
La terre est notre, mais ce sont les humains qui la cultivent.
In this video, Hopinka draws from Bob Dylan's song Just Like Tom Thumb's Blues (originally recorded in 1965) layering experiences that circle loss and longing between images of landscapes and movement. In the song by Dylan, the singer finds himself in a nightmarish vision: remorse, memory and exhaustion are woven through and around a journey through Juarez, Mexico. So too in this video are these stories woven around colonial discontent and uncertainty, as they move through an uneasy negotiation with the strangeness of the American pioneer spirit.
Sky Hopinka (Ho-Chunk Nation/Pechanga Band of Luiseño Indians) was born and raised in Ferndale, Washington and spent a number of years in Palm Springs and Riverside, CA, Portland, OR, and Milwaukee, WI. In Portland, he studied and taught chinuk wawa, a language indigenous to the Lower Columbia River Basin. Through videos, photography and text, Hopinka's work centres around the personal positions of Indigenous homeland, landscape and designs of language as containers of culture expressed through personal documentary and non-fictional forms of media. His work has been presented internationally at festivals including ImagineNATIVE Media + Arts Festival, Images, Wavelengths, Ann Arbor Film Festival, Sundance and Projections. He has participated in the 2016 Wisconsin Triennial, the 2017 Whitney Biennial and the 2018 FRONT Triennial. He was a guest curator at the 2019 Whitney Biennial and was a part of Cosmopolis #2 at the Centre Pompidou.
Decolonize This Place
February 1–28
This happened on October 9, 2017 and October 8, 2018
This is what we do
This is the work that has to happen
The epicentre in all instances is both the eye of the beholder and the storm.
Decolonize This Place (DTP) is a movement based in New York City that organizes around Indigenous rights, black liberation, Palestinian nationalism, de-gentrification and economic inequality. They practice connection to land and anti-colonial action that dismantle, disrupt and decolonize museums and cultural institutions within the art world.
The first video includes a land acknowledgement with strategies on how DTP takes a mob through an institution, complete with human mic, social choreography and arm signals. The second video is a high energy overview of the same event the following year.
We continue to see a sharp resurgence of social movements, within which artists and cultural workers are playing leading roles. Land, air, and water are central to decolonization.
Moving beyond politics that rely upon loose definitions of commonality, we instead mobilize complex differences to decenter whiteness, and enact reparations and repatriate land.
We prioritize the presence and work of people of color—challenging the white supremacy that continues to characterize the economies and institutions of art.
– Decolonize This Place on Movement Space
The following brochures are from the 4 Annual Anti-Columbus Day Tours from 2016, 2017, 2018 and 2019
September 2020–January 2021
Guest Curator: Daisy Desrosiers
September 2020–January 2021
Independent curator and interdisciplinary art historian Daisy Desrosiers' selection looks at the poetics of slowness and the complex relationships between collective narratives and memory as modes of becoming.
The selection by Desrosiers included participation from:
Jesse Chun, David Hartt, Oliver Husain, Steffani Jemison, Erin Johnson, Kapwani Kiwanga, Celia Perrin Sidarous, Erin Shirreff and Zadie Xa.
Kapwani Kiwanga
Vumbi
December 19, 2020–January 10, 2021
The research-based practice of Kapwani Kiwanga uses installation, sculpture, performance as well as video and sound pieces to explore the relationships between historical and material narratives, systems of power, and the role of the archive within contemporary contexts. Kiwanga's practice inquires through material and immaterial proposals and invites the viewer to see things from various angles. Her video, Vumbi (2012), looks at gestures of repetition and care as they relate to one's relationship to land and a sense of place. Shot in Tanzania, this durational work shows the artist meticulously cleaning the leaves of a wall of vegetation covered in orange-copper dust. While cleaning one leaf at a time, Kiwanga reveals the landscape of a place and its daily activity and gestures that so often can go unnoticed and deemed mundane. While making the green of the leaves a visible and tangible manifestation of the present, the artist also asked how one's presence can address questions of ownership and belonging but also, performance and action at the center of an ongoing act of discovery.
This video has been selected as part of a programmatic take-over by independent curator Daisy Desrosiers.
Erin Shirreff
Still
December 5–18
In Still (2019), a silent and durational video, the artist knits together a series of tableaus of graphite-colored, poured plaster forms into a seamless, unending scroll. Rough-hewn slabs, flat arcs, and nondescript bowl-like volumes are interspersed with casts of more recognizable objects, all lit with a single raking light and backdrop of deep black into which elements, at random moments, recede. The work evokes 17th-century Vanitas compositions and, with its play of shadow and scale, an abandoned modernist cityscape, or a scattered workshop table late at night. 
This video has been selected as part of a programmatic take over by independent curator, Daisy Desrosiers.
Zadie Xa
Mood Rings, Crystals and Opal Coloured Stones
November 21–December 4
Working with performance, moving image, textiles and painting, Zadie Xa playfully interrogates the cultures that inform her experience within the Asian diaspora. She is interested in creating non-linear narratives that centralize around powerful archetypes, which are often female. Moodrings, Crystals and Opal-coloured Stones, 2016 focuses on the central character of a Korean shaman, and channels the artist's interest in the supernatural and traditional ways of knowing. Fuelled by her research into female mudangs (or shaman) she develops a performance in which she acts out their rituals. Xa considers herself an 'amateur' in her understanding of Korean culture and identity, and therefore uses strategies of mimicry in attempts to perform or attain authenticity. In this video work, the artist wears SVN Stacks/Moon Marauder, 2015, an intricate, hand-sewn garment. Her textile works often combine references from contemporary streetwear, such as Western-style varsity athletic jackets, and traditional Korean folkloric clothing. The "G" logo on this work references "Ganggangsullae", an ancient Korean women's folk dance that was performed under the brightest full moon. It also features familiar symbols used to identify Asian bodies as 'other': the commodified yin-yang symbol, lucky numbers and 'monolid' eyes. Her work's deployment of these exaggerated motifs challenges perceptions of Asian identities while creating new alternatives.*
*The language around the film is graciously provided by the artist and Art Council Collection, UK. 
This video has been selected as part of a programmatic take over by independent curator, Daisy Desrosiers.
Credit:
Filmed sequences: Benito Mayor Vallejo
Performers: Jaeyeon Yoo and Zadie Xa
In the early 1960s, Constantinos Doxiadis was commissioned by the Greek military Junta to develop the master plan for Athens and to bring some order to the explosive post-war growth and urbanization the city was experiencing. In 1965, he was commissioned by Detroit Edison to lead the "Developing Urban Detroit Area Research Project." The fall of the junta in 1974 and the Detroit riots of 1967 changed the historical trajectory of both cities and neither commission was realized. Hartt's ongoing inquiry into the ideological implications of the built environment engages a variety of media. Shot in both Athens and Detroit, the footage, set to a score by Sam Prekop, is montaged so that the locations become indiscernible and a hybrid city-state emerges. Interspersed at random moments throughout the film is a group of labourers who flip an automobile in a winter landscape as both an invocation of the myth of Sisyphus and a reenactment of civil disorder.
This video has been selected as part of a programmatic take over by independent curator, Daisy Desrosiers.
Steffani Jemison
Sensus Plenior
October 24—November 9
The practice of Steffani Jemison uncovers vernacular genealogies for cultural practices and technologies like writing, drawing, and performance. How do we move? How are we moved by each other? How do we have the courage to pour ourselves into another without fear of depletion? Can this help us find an alternative to goal-oriented, hierarchical vocabularies of "teaching" and "learning"? The video work Sensus Plenior is a study of language, gesture, and movement through the practice of pantomime in the black church. The work documents a sequence of gestures as they unfold in the body of Reverend Susan Webb, leader of Master Mime Ministry of Harlem. By forcing the lyrics of gospel songs into chains of gesture, the mime's body becomes a tool for channeling the meaning, but also the mystery, of the Word. Rather than clarifying language through language, Webb's gestures situate interpretation within the affective register of the body, in a place where language cannot reach.  Susan Webb rejects "performance" as a descriptor for her work—instead preferring the word "ministry." Relay, echo, identification, and mirroring are central to the concepts of pantomime and mimicry. Ministers model the activity of opening the body to the spirit in order to make oneself absolutely receptive, allowing the body to be a vessel or medium that pours to another vessel that pours to another vessel.
The video was researched, rehearsed, and shot in winter-spring 2017 and completed in summer 2017. Sensus Plenior was co-commissioned by Osei Bonsu for CAPC Bordeaux and Jeu de Paume in connection with Bonsu's curatorial platform Economy of Living Things. The work was recently shown as part of the 2019 Whitney Museum, Whitney Biennial in New York.
This video has been selected as part of a programmatic take over by independent curator, Daisy Desrosiers. 
Note that the language on Sensus Plenior was graciously provided by the artist.
Complete credits:
Featuring: Rev. Susan Webb
Sound engineer: Sean T. Davis / theHalfStyle
Music performed by: Mazz Swift (violin) and Brandon Lopez (bass)
Additional recording: Steffani Jemison and Sean T. Davis
Acknowledgements: Church of the Master Presbyterian Church; Memorial Baptist Church; Rejoice Ministries – The Church of Healing; Full Faith Christian Center; Master Mime Ministry of Harlem (Doris Collins, Sparkle Lee, Star Lee, Crystal Swinton); Rev. Patricia A. Reeberg; Minister Bernetta Rivers; Rev. Dr. Renee F. Washington Gardner
Co-production: Jeu de Paume; Fondation Nationale des Arts Graphiques et Plastiques, Paris ; and CAPC musée d'art contemporain de Bordeaux
Celia Perrin Sidarous
Slip
October 10–23
In her distinctive way, the work of photographer and filmmaker Celia Perrin Sidarous constructs meaning out of a lexicon that weaves embodied language, found objects, visual poetry as well as counternarratives to the cult of domesticity. Her practice explores the relationships between intimacy and familiarity, still lives and moving images as well as gestural memories and new associations of forms. With Slip, the artist re-creates a genealogy of historical, material, and personal remnants as she reflects on archival methodologies, notions of womanhood, and ideas of representation through image-making. Shot on location in Athens, Delphi, and Cape Sounio, Greece, as well as Larnaca, Cyprus, and Montréal, Canada, Slip points to some of the questions omnipresent in the artist's practice amongst which, How do we remember places and stories that we didn't witness? What are the shapes of memory? How do objects create meaning and how do they inhabit shared rituals? while inviting the viewer to capture singular pieces of the answers. 
This video has been selected as part of a programmatic take-over by independent curator Daisy Desrosiers. 
Acknowledgments:
Camera, editing and negative cutting: Celia Perrin Sidarous
Camera assistants: Paul Hardy, Clara Touchette Lacasse
Film stock Kodak Vision 3 250D 7207
Thank you – Main Film, MELS, Niagara Custom Lab, Robert Film Services, Canada Council for the Arts, Dale and Nick Tedeschi, Prix Pierre-Ayot.This work features the hands of Celia Perrin Sidarous and Lucie Sidarous.
Oliver Husain
moth maze
September 25–October 9
In moth maze the camera moves along a maze-like winding path, marked by lamps. The first location is an empty warehouse in downtown Toronto, the second a forest in Kerala, India. In both locations, the path of the camera and the position of the lamps are the same. Through the similarity of the camera movement and the placement of the lamps, the film connects these two otherwise unrelated places on different sides of the planet. It creates a portal between the two spaces, a playground for both insect and human viewers. Attracted to the light of the screen as day turns to night, our attention ricochets from twilight to lamplight.*
This video has been selected as part of a programmatic take-over by independent curator Daisy Desrosiers. 
* Warning: stroboscopic effects are used in this video, people with epilepsy or photosensitivity should be careful.
Camera IRIS NG, AMITH SURENDRAN
Set design BOJANA STANCIC
Production assistants SAIF AZMI, MATT SMITH;
Produced by Nuit Blanche Toronto
Special thanks to HELENA RECKITT and Gallery Susan Hobbs 
Erin Johnson
There are things in this world that are yet to be named
September 12–25
There are things in this world that have yet to be named takes as its starting point Solanum plastisexum—an Australian bush tomato whose sexual expression appears to be unpredictable and unstable, challenging even the fluid norms of the plant kingdom. Because it doesn't fit within a constant sexual binary, it evaded classification by botanists for decades. The video—filmed over 50 million acres of land burned in wildfires across Australia—combines footage of the team of botanists who recently named Solanum plastisexum in their lab in Pennsylvania, with shots of Australian plants cultivated in the United States at The Huntington in Los Angeles. The voice-over is an amalgamation of texts including interviews with botanist Tanisha Williams and love letters between Rachel Carson and Dorothy Freeman. Carson was forty-six and Freeman fifty-five when the two met in 1953 on an island in Maine. Though Freeman was married, they sustained a passionate, romantic correspondence throughout Carson's writing of seminal environmental texts.
This video has been selected as part of a programmatic takeover by independent curator Daisy Desrosiers that will unfold for the remaining part of 2020.
Directed and Produced by: Erin Johnson
Directors of Photography: Erin Johnson and Kanthy Peng
Editors: Erin Johnson and Matt Nelson
Sound Design and Mix: Nikita Gale and Matt Nelson
Voice-over: Farah Al Qasimi
Featuring: Chris Martine, Cheyenne Moore, Ariel Antoine, Tanisha Williams from Bucknell University's Solanum plastisexum lab
Jesse Chun
SULLAE 술래
September 1–15
SULLAE 술래 translates systems of language, power, and legibility by looking to the Moon as a conceptual site; addressing it not only as a poetic metaphor but also as a colonial site. In this video, moving images of a traditional, precolonial Korean women's Moon dance, gang gang sullae (강강술래), are interwoven with consonants of the English language, Hangeul (한글) and English text, various index pages from intonation books, white noise, and word-censor bleep. Chun highlights the way in which this dance was historically used as a means for unleashing silenced anger: release through song, bellowing, yelling, and circling under the Moon. The video oscillates between the sonic, visual, and semiotic; undoing the English language, its embodied violence and dominance through abstraction and mistranslation—a process the artist describes as unlanguaging. In SULLAE 술래, the Moon encircles a multiplicity of systems, languages and untranslatable memories—simultaneously transcribing and unlanguaging, so one can shout into the night, under its warm shadow.
This video has been selected as part of a programmatic takeover by independent curator Daisy Desrosiers that will unfold for the remaining part of 2020.
March 2020–August 2020
MOCA Toronto
Selected by the programme team: Rui Mateus Amaral, Sabrina Maltese and November Paynter
March–August 2020
The selection was made to present artists already working with MOCA on our digital platform and to support additional artists during the first museum closure that started in March 2020. In addition this first phase of programming included partnerships with the National Film Board of Canada, Scotiabank Contact Photography Festival, Mercer Union and Protocinema.
The selection included participation from:
Basma AlSharif, Deanna Bowen, Fatma Bucak, Robin Cameron, Petra Cortright, Sara Cwynar, Shezad Dawood, Nicholas Galanin, Deniz Tortum & Kathryn Hamilton, Yazan Khalili, Vvzela Kook, Evelyn Lambart, Mark Lewis, Jon Rafman, Megan Rooney, Gun Roze, Victoria Sin, Krista Belle Stewart and Wu Tsang.
Vvzela Kook
Columbus of Horticulture
August 15–31
This work stems from Vvzela Kook's on-going research about the role of botany in the history of imperialism. Botanical science became an important part of empire-building for European countries during the 16th–19th centuries, as maritime exploration often profited from the discovery of valuable exotic plants. Focusing on the British colonial "plant hunter," who searched the empire's colonies for precious plants and seeds to cultivate elsewhere for economic power, this animation simulates the frenzied excitement of discovery, as well as the colonial desire to scour new botanical resources.
Guiding Questions
Recommended Age: Grade 7 and up
What do you think of the animation style? How might the surreal colours and shapes influence how you feel about the work?

What do you notice about the plants depicted in the animation? Do any of them look familiar or remind you of anything?

The human-like figures that invade the island appear metallic and robot-like.

What do you think is the significance of their depiction?
What are they doing?
Toward the end of the work, a brown, liquid-like stream flows across the screen, carrying away some of the human creatures along with their harvested plants.

What do you think this represents?
If you could ask the artist a question about the piece, what would you like to know?
All-Ages Activity: Surreal Colour Drawing
Create a surreal scene with this drawing activity inspired by Vvzela Kook's intensely coloured animation:
Wu Tsang
The Shape of a Right Statement
August 1–14
Staring directly at the camera, Tsang re-performs one section of "In My Language," a forceful YouTube manifesto by autism rights activist Amanda Baggs. Tsang's powerful interpretation was staged at The Silver Platter, home to the club Wildness, following a year in which the artist had presented live performances of the Baggs text. Tsang mimetically reproduces the voice of Baggs's Speech Generation Device, stating, "It is only when I type something in your language that you refer to me as having communication."
Guiding Questions
Recommended Age: Grade 6 and up
What do you think the title of the work, The Shape of a Right Statement, means?

In the film, Tsang re-performs the text from Amanda Baggs' manifesto In My Language, "mimetically reproducing" the voice of Baggs' Speech Generation Device.

Why do you think Tsang chose to perform the piece in this way?
How does this work make you think about communication, and how we choose to communicate with others? Does it give you a new perspective on persons who communicate in ways other than spoken language?
If you could ask the artist a question about the piece, what would you like to know?
Basma Alsharif
Trompe l'Oeil
July 18–31
A Trompe l'Oeil is a trick of the eye.
Trompe l'Oeil is a highly edited series of actions—banal, domestic, repetitive—all set to a vinyl recording of stock sound effects made for films. The familiarity of many of the scenes lures us into an unsettling composition of monotonous experience that sometimes harmonizes and sometimes jars with the unrelated audio references. The video Trompe l'Oeil is normally presented within a broader installation that includes images and prints from colonial archives, set within a mise-en-scène of furniture and home decor. Alsharif's work often plays with constructions of time and history to disrupt how we understand and read the past.
Trompe l'Oeil was exhibited in Basma Alsharif's solo exhibition at MOCA in 2019 along with three other installations: The Story of Milk and Honey, 2011, Girls Only, 2014 and A Philistine, 2018. The project was supported by Mophradat Consortium Commissions.
Guiding Questions
Recommended Age: Grade 10 and up
The title of the work,

Trompe L'Oeil

, translates to "a trick of the eye."

What do you think this title is referring to? What is the trick of the eye?
Listen to the stock sound effects that play throughout the film.

Do any of them sound familiar?
How does the way the sounds are layered with the rapidly changing video clips influence your interpretation of the work?
The film has been cut and edited so that it plays as a repetitive series of fragmented domestic scenes.

How does the piece make you feel? 
After spending so much time in our homes lately, how does this work resonate with you? If you were to film a compilation of scenes to represent how you spend your days at home, what would you include?
If you could ask the artist a question about the piece, what would you like to know?

 
For the newest installment of Shift Key, MOCA has partnered with Protocinema to share a recent work by Deniz Tortum and Kathryn Hamilton. 
ARK (2020) is a two-channel video on the development of virtual reality against the ongoing collapse of the environment. It explores the nascent 3D archive of objects and how virtual reality technology stands in for and distracts from loss and absence in the physical world.
Adolfo Bioy Casares' 1940 novella Invention of Morel, features a device that can perfectly capture life—at a cost. Anything captured by the device is infinitely replayed as a hologram but destroyed in the real world. In another approach to simulation, Elon Musk has said: "The odds that we are in base reality is one in billions". He refers to an idea popular amongst technologists and entrepreneurs: the simulation hypothesis, which argues that we live in an artificial simulation rather than in reality. Enthusiasm for this hypothesis may be explained by the nihilism of our current trajectory. This belief offers solace against paralysis: as we bring our world to ecological catastrophe, we terminate only one of infinite "simulations".
Guiding Questions
Recommended Age: Grade 9 and up
How does this work make you feel?
Why do you think the work is titled ARK?
The film's images and narration draw connections between developments in virtual reality technology and the increasing collapse of the environment.

How might this give you a new perspective on the urgency of our current climate crisis?      
Can you think of some ways in which the development of virtual reality has affected our lives, specifically within accessibility and education? 
At 8:42 and again at 10:38 we see a clip of someone tapping on the palm of a hand as if it were a touch screen.

What do you think this image signifies?
Towards the end of the work, we learn that the virtual reality headset created by Ivan Sutherland in 1968 was nicknamed "The Sword of Damocles," and the narrator proceeds to explain the legend behind that phrase.

Why do you think the headset was originally called that in 1968, and how does that nickname take on an entirely different meaning in our present world?
Robin Cameron
Near Future Recent Past
July 4–17
Near Future Recent Past (2016) is a split-screen video that juxtaposes archival film on the left with new footage shot by Cameron or downloaded from stock image websites on the right. The clips appear in rapid succession, following the cadence of a spoken script interspersing Cameron's words with excerpts from writers such as Richard Brautigan, Joe Brainard, and Rebecca Solnit. The footage ranges in content with almost encyclopedic ambition, but frequently returns to symbols for time and its measurement: hourglasses, newspapers, calendars, a sundial, a watch. A doubling occurs. Cameron offers "signs" of time using time itself as her medium, the fixity of the former undercut by the ephemerality of the latter as the seconds of the video tick by.
Voice: Maia Ruth Lee
Audio Edit: Greg Teves
Drums: Booker Stardrum
Additional Audio Editing: Shane O'Connell
Additional Cinematography: Wilson Cameron
Guiding Questions
Recommended Age: Grade 8 and up
How does this work make you feel?
The passage of time is a prevalent theme throughout the piece.

What are some of the symbols, objects, and scenes shown in the film that represent time?
Has living through the COVID-19 situation made you consider time and its passage in a different way? How so?
Why do you think Cameron chose to show clips of archival footage on the left beside newer footage on the right? How does this split screen format add to your understanding of the work?
If you could ask the artist a question about the piece, what would you like to know?
Marsha P. Johnson, Photographed by Gun Roze
In honour of Pride, this week's Shift Key offering differs from previous weeks. Rather than a video, film or moving image work, we have chosen to put forward a single still image. 
This picture is of Marsha P. Johnson in 1982, captured by Toronto street photographer Gun Roze, on one of his trips to Manhattan. A visitor to New York City at the time, Gun was unaware of Johnson's political and social impact. Strolling along Christopher Street, he recalls being attracted to her whimsy and magnetic energy, leading him to ask Johnson's permission to take this photograph. It was only later, when his negative scans were being retouched, that he learned through his technician he had photographed the Marsha P. Johnson. And the "P" in her name? It stands for "Pay it no Mind."
Marsha "Pay it no Mind" Johnson (1945-1992), who once went by the name, "Black Marsha," was a black, queer, gender-nonconforming activist, hustler and drag queen. Alongside Stormé DeLarverie (1920-2014) and Sylvia Rivera (1951-2002), Johnson is a prominent figure of the Stonewall Riots (June 28, 1969), a pivotal act of resistance against the police for the liberation of 2SLGBTQIA+ people. In 1970, Johnson and Rivera founded STAR, the Street Transvestite (now Transgender) Action Revolutionaries, an organization that supported and advocated for transgender youth experiencing homelessness. The rights of sex workers and prisoners were causes Johnson fought tirelessly for at the same time. In the 1980s, she directed her outspokenness, sensitivity and zeal towards AIDS activism, joining forums and organized protests by the AIDS advocacy group, ACT UP. In one of her final interviews on June 26, 1992, Johnson revealed that she had been living with HIV since 1990. 
On July 6, 1992, Johnson's body was discovered in the Hudson River near the Christopher Street Piers. Her cause of death was first treated as a suicide and then later declared undeterminable. Transgender activists Mariah Lopez and Victoria Cruz, as well as those close to Johnson, have challenged these closing statements and continue to seek justice for her life. In 2012, the case was reopened by the New York Police Department due to Lopez's lobbying and fervour. 
Marsha P. Johnson's life too has opened up. Gun's photograph is one of several newly available sources—articles, artworks, audio and video recordings, documentaries and essays— that have enabled her many layers and self-images to unfold to a wider audience. These materials have awakened new generations to the recognition owed to Johnson, to transgender individuals and trans people of colour, whose defiance, steadfastness and truths have collectively produced an extraordinary movement. Something to be honoured, protected and expanded upon.
For further information on Marsha P. Johnson, queer culture and resources for supporting our 2SLGBTQIA+ community, we encourage you to explore our diverse, incomplete list here:
What does 2SLGBTQIA+ stand for?
Two Spirit, Lesbian, Gay, Bisexual, Trans, Queer, Intersex, and Asexual peoples, as well as those who identify as non-binary, pan-sexual, other gender and sexual minorities, as well as questioning.
Marsha P. Johnson

Popular Culture Sources
Queer Culture and Archives
Research & Support
Nicholas Galanin
Tsu Héidei Shugaxtutaan 1 and 2
June 20–July 3
Tsu Héidei Shugaxtutaan translates to We will again open this container of wisdom that has been left in our care. The work is named for the song being danced in by the non-Tlingit dancer. Galanin suggests opening containers of wisdom to create connection between generations as contribution to living culture. This work embodies celebration of culture and the necessity of contribution over consumption. In this early work Galanin explores song, dance, language, as intersecting streams to carry cultural continuum. The work asserts Tlingit song and dance as contemporary and relevant, blending them seamlessly with contemporary song and dance as a beacon for what is possible when culture is allowed to grow and expand to navigate new circumstances. Rather than a juxtaposition of time or place, the video expands both by weaving together image, sound and motion.
Guiding Questions
Recommended Age: Grade 3 and up
In this work, Galanin blends together Tlingit and non-Tlingit music and dance. 

How does watching these two films side-by-side influence your reading of the two types of music and dance depicted? 
Both films are presented in black and white. How does this add to your interpretation of the work?  
How do you think these films would be shown in a gallery? How might different presentation formats affect your viewing experience?
If you could ask the artist a question about the piece, what would you like to know?
Deanna Bowen
O̶n̶ ̶T̶r̶i̶a̶l̶ The Long Doorway
May 30–June 26
For the newest instalment of Shift Key, MOCA has invited our neighbour, Mercer Union, a non-profit, artist-run centre to contribute a project for our online platform. This week's content extends our ongoing commitment to collaboration, experimentation and to our community. In recent weeks we have partnered with organizations such as Scotiabank Contact Photography Festival, Images Festival and the National Film Board of Canada. 
In Fall 2017, Mercer Union presented a commissioned solo exhibition by Toronto-based artist Deanna Bowen. The work takes as its starting point a lost 1956 CBC teledrama ON TRIAL The Long Doorway by Canadian screenwriter Stanley Mann. It tells the story of a Black legal aid lawyer tasked with representing a white University of Toronto student who is charged with assaulting a rising Black basketball player. No recordings exist of the teledrama, so Bowen used the recovered script and set design notes to restage the work as an experimental exhibition and performance at Mercer Union.
Working with five Black actors, Bowen's 2017 restaging has been condensed into two works of art: a four-channel installation piece and this single channel video of the restaged teleplay. This single channel version was presented alongside Bowen's solo exhibition at the Contemporary Art Gallery, Vancouver in 2019. For her exhibition there, Bowen created a new body of work investigating the implications of Vancouver's history of racial discrimination
A commissioned essay by Liz Park, Curator of Exhibitions at UB Art Galleries and Dramaturge Notes by Dr. Seika Boye accompanied Deanna Bowen's exhibition at Mercer Union.
On Trial The Long Doorway was commissioned and produced through a partnership between Mercer Union, a centre for contemporary art, Toronto, and the Contemporary Art Gallery, Vancouver.
Courtesy of the Artist. 
Seraphine, Seraphine
Krista Belle Stewart
May 23–June 5
This week on Shift Key we share a work by Krista Belle Stewart, one of the two artists MOCA was to exhibit in May in partnership with the Scotiabank Contact Photography Festival.
Seraphine, Seraphine includes documentary footage of Krista Belle Stewart's mother Seraphine Stewart from a 1967 profile made by the CBC—based on her education as Canada's first Indigenous Public Health Nurse—and excerpts from her 2013 testimony at the Truth and Reconciliation Commission in Vancouver. The inclusion of both archival documents diverts from their intended use in service of outmoded ethnographic practice, cultural regulation and national narratives by mirroring timelines that express the impact of memory on lived experience. 
This iteration was shown as part of the 28th Images Festival in 2015 at Mercer Union and won the OCAD University Off-Screen award.
Guiding Questions
Recommended Age: Grade 7 and up
In this film, two separate pieces of footage play side by side. They both offer insight into Seraphine Stewart's life experiences but are framed very differently. 

How does the tone of each set of clips differ?
Why do you think Stewart chose to layer the two batches of footage together, sometimes playing simultaneously and sometimes alternating?  
How do you imagine your understanding of Seraphine's experiences might change if the clips from 2013 weren't included?
If you could ask the artist a question about the piece, what would you like to know?
If I had the words to tell you we wouldn't be here now
Victoria Sin
May 16–30

Victoria Sin performed If I had the words to tell you we wouldn't be here now at MOCA Toronto for one-night-only in November 2019. The full-length document of the performance is available to watch here on the platform for the next two weeks. We thank Victoria for generously sharing their work. 
If I had the words to tell you we wouldn't be here now uses storytelling, drag and theatrical devices to explore how language shapes thought. The performance stages a dialogue between a desiring queer body and a musician to illuminate how identity and experience are not only represented but also created and reinforced through language and naming. 
Here, Victoria performs alongside percussionist Nikki Joshi, who developed an original score for this piece. Victoria wears a specially commissioned oceanic costume by designer Dimitra Petsa.
Documentation by Lulu Wei. The original iteration of this performance was commissioned by Chi Wen Gallery.
Guiding Questions
Recommended Age: Grade 10 and up
How would you describe the atmosphere created by Joshi's percussion piece?
Sin and Joshi use repetition and percussion to emphasize certain parts of the performance. For example, throughout Sin's monologue, a percussion sound plays in place of a name or label pertaining to someone's identity. 

Why do you think the artist chose to do this?  
How does the percussion emphasis add meaning for the audience?
The monologue that narrates the performance has been pre-recorded, and Sin lip syncs along to certain parts of the voiceover.  

Why do you think the artist has chosen to lip sync the monologue, rather than speaking the words live?
Why do you think Sin chose to perform this piece in drag makeup and costume? How might your understanding of the piece change if they had not been in costume?
If you could ask the artist a question about the piece, what would you like to know?
Hiding Our Faces Like a Dancing Wind
Yazan Khalili
May 9–23
Yazan Khalili's video has the format of a computer monitor screen with several windows open. In the center is the recognizable image of an iPhone held up in a hand. The device's camera is in use, so we, the viewers, can see the subject on the other side of the lens: a woman holding her hands in various positions over her face, which is framed by the yellow square associated with the iPhone's facial recognition software. This software is also shown being used on photographs of masks, which, in the form of JPEG files, are individually opened one by one. In this way, Khalili utilizes recently developed and now ubiquitous camera technology to evoke the colonial history of photographic "evidence" that served to identify or classify individuals through their facial characteristics.
With thanks to Yazan for sharing his work at this time and to our partnership with Mophradat Foundation.
Guiding Questions
Recommended Age: Grade 7 and up
There are many different types of facial recognition software. In this film, we see it in the form of the yellow square on the iPhone camera.

What do you think facial recognition software does?
How does it work?
By hiding parts of her face with her hands, what is the woman trying to do? Does she succeed?
If you could ask the artist a question about the piece, what would you like to know?
Scouring the press
Fatma Bucak
May 2–May 15
This week on Shift Key we share a work by Fatma Bucak, one of the two artists MOCA was to exhibit in May in partnership with the Scotiabank Contact Photography Festival.
Scouring the press is a video performance, where we see the artist and two other women washing 84 days-worth of stories in Turkish newspapers. While the act is oddly domestic and archaic, it takes place on a ridge of development land on the outskirts of Istanbul. The women begin washing from February 7, 2016—the day referred to as the "basement massacre," when over 150 civilians were killed by Turkish security forces in Cizre, a Kurdish town close to the Syrian border. The Turkish press suppressed details of the massacre in an effort to essentially delete the event from public consciousness. In Bucak's work the repetitive and physical nature of washing the newspapers does not only imply the machinery of labour behind censorship, but that those practicing censorship are literally getting their hands dirty.
Guiding Questions
Recommended Age: Grade 6 and up
Why do you think the three women are washing newspapers?  What does this action symbolize?
The performance is set against a wide stretch of landscape on the outskirts of Istanbul.

How does this setting add meaning to the piece? 
How do you think your understanding of the piece might change if it was performed in a different setting, such as a gallery or museum space?
If you could ask the artist a question about the piece, what would you like to know?
"It is important to create a kind of relationship where you are not intimidated by what is going on; but you are welcomed to look at what's going on exactly, behind what you are seeing."
Bucak discussed how she uses aesthetics and beauty to frame her politically-charged work in a talk she gave at the David Winton Bell Gallery in 2016.
Watch here: Fatma Bucak in Conversation at the David Winton Bell Gallery
Begone Dull Care: Nine Fables and Abstractions
Evelyn Lambart
April 27–May 11
In 1942, Evelyn Lambart was the first woman animator to join the National Film Board of Canada. From 1944 to 1965, she worked with Norman McLaren on a number of his most distinguished films, such as La Merle (1958), A Chairy Tale (1957), and what is considered to be their favourite collaboration, Begone Dull Care (1949).
In 1965, Lambart embarked on her solo career and set out to make films that would appeal to both children and adults. Bringing methodical precision to shifting the shapes in front of her, the stylistically distinct floating limbs of her characters are held together by Lambart's sensitivity to expression, who said "It's not about moving it from A to B—move it so that it is angry, or that it is lazy."
Begone Dull Care: Nine Fables and Abstractions by Evelyn Lambart is a cross-section of the energetic abstractions Lambart worked on with McLaren and of her colourful cut-out animations depicting adaptations of Aesop's fables, among other stories.
The total runtime of this screening is 57 minutes, each film begins at the indicated timestamps below. 
00:00 Lines Vertical (With Norman McLaren), 1960, 6 min.
6:10 Mr. Frog Went A-courting, 1974, 4 min.
10:53 The Town Mouse And The Country Mouse, 1980, 5 min.
16:27 Begone Dull Care (With Norman McLaren And The Oscar Peterson Trio), 1949, 7 min.
24:30 The Lion And The Mouse, 1974, 4 min.
28:47 Rythmetic (With Norman McLaren), 1956, 8 min.
37:40 The Hoarder, Canada, 1969, 7 min.
45:30 Fine Feathers, Canada, 1968, 5 min.
50:58 Lines Horizontal (With Norman McLaren), 1962, 5 min.
Curated by Steffanie Ling. This screening is a special presentation done in collaboration with Images Festival.
Films courtesy of the National Film Board of Canada.
All-Ages Activity: Stop Motion Animation
Try your hand at stop motion animation with an activity inspired by Evelyn Lambart's distinct cut paper animations:
Stop Motion Animation Inspired by the Work of Evelyn Lambart
Scroll 1
Sara Cwynar
April 25–May 8
Scroll 1 conveys an endless circling of objects, images, and value signifiers, and the way the same images (and bodies) get used again and again—whether it's a pop star's body, a reclining nude in a classical painting, or a model on an E-commerce site. This video, filmed over a long set built in the studio, features several extended backward and forward-moving scrolls over a stream of art reproductions and commercial objects, moving in a way similar to an Instagram or Facebook feed, sometimes with myself inserted into the shot. The film occasionally zooms in and focuses on a longer image – a woman posing on a floral backdrop, the pop star Christina Aguilera, or a shot of a worker in a pantyhose factory in Italy. The work tries to convey a sense of the equalizing quality of our current media world, the way it washes over us, occasionally punctuated by a longer more meaningful or more urgent message.
Thanks to Sara for sharing her work. Courtesy of the artist, Cooper Cole, Toronto and The Approach, London where these films and more by Sara can be viewed in her current exhibition, which is now
online
.
Sara Cwynar's work Red Film, 2018 was included in the MOCA exhibition Age of You (fall 2019). Red Film can be viewed until April 30 on the website of The Approach, London.
Guiding Questions
Recommended Age: Grade 7 and up
Cwynar presents hundreds of objects and images on a seemingly endless assembled collage, filmed from above.

What are some of the objects and images that you see? What do they have in common? 
Are there any items or images that you think would make fitting additions to the assembled collage shown? What would they be and why?
Cwynar chooses to feature some colours prominently – specifically reds, pinks, and purples – yet in contrast she herself wears blue in the film.

Why do you think she chose to use these colours?
Do the colours make you feel a certain way?
If you could ask the artist a question about the piece, what would you like to know?
forever_2_fast_2_subtle
Petra Cortright
April 18–May 1
Shift Key's newest instalment is a moving digital painting by Petra Cortright, one of the leading figures of both Net and Post-Internet Art. The work is an extension of her current show at Team Gallery in New York.
Cortright's brand of landscape is chaotic, beautiful, and volatile, marked by abstraction and populated by jagged .jpg shards and swift blossoms of painterly brushwork; working with a pace and agility the digital methods at her disposal afford, the entanglement of mark-making, color, and texture can assume an almost synesthetic effect.
Cortright operates within the vernacular of landscape painting but outside of its classical means and materials, questioning how the haptic and lyrical might be laced within consumer technology, spam-text poetry, and files chosen not in defense of the poor image but in celebration of it. Her painting software of choice is, of course, Photoshop, and her works mine the expressive and unintended potential of its transformations, effects, and malleability. Evolving from earlier non-figurative works that include flash animation gifs and screensavers, in their insistent lightness and nimble fluency Cortright's paintings conjure Jim Hodges and Helen Frankenthaler, and convey the quality of 'breath' highly regarded in Chinese landscape painting.
In the past decade, as internet culture has steadily progressed towards predictive, targeted consumption, content has become a vehicle for formats and platforms rather than the other way around. By contrast, Cortright's sensibility extends from the culture of personalization and customization which characterized fledgling internet culture, a DIY-oriented MO of using the most immediate and accessible means to create and share in ways that subvert rather conform to structure and legibility. The very act of making is a through-line that evolves from the artist's early webcam videos to the most recent paintings that position the how and why of creative production as a subject in and of itself.
The artist Paul Chan once described Cortright's work as, "[exuding] the disinterestedness that only comes from a form of creating with nothing particular on the line, and this is what affords it a kind of freedom that becomes, in a word, delightful."
READ: Art Forum–Petra Cortright on self-isolation, Zoom mania, and her early webcam works
Guiding Questions
Recommended Age: Grade 4 and up
How does this piece make you feel?
Cortright describes this work as a digital landscape painting. Using layers in Photoshop, she is able to achieve fluidity and movement, which gives the work a completely unique identity. 

How would you describe this landscape?
In what area of the world might you find it?
The title of the piece is

forever_2_fast_2_subtle.

Do you think this title accurately describes the work?  
Can you think of three additional adjectives you would use to describe the piece? 
If you could ask the artist a question about the piece, what would you like to know?
Standing Ovation on Suffern Lake Saskatchewan
Mark Lewis
April 11–24
Mark Lewis' film, Standing Ovation on Suffern Lake Saskatchewan, is a recent example of his minimal and precise approach to film. Not always in plain sight are profound references to historical events, the history of cinema and the tradition of painting. Along the lines of his previous works, Standing Ovation consists of a single shot, with no sound or camera motion. Set against a wintery grey landscape, a lonesome hockey player is seen moving a puck across a single ice patch as if practicing a set of plays or passing time. As the film advances, a small crowd emerges from the woods, greeting the player with an unusually sustained outpour of applause and emotion. At first, she appears unfazed by this bold reception, but eventually, she begins to play to her fans, forming an intimate and cryptic exchange between the two.
This film was shot in Saskatchewan, the birthplace of Canadian professional ice hockey player, Gordon Howe. On February 5, 1980, during his final season, Howe stepped out on the ice in Detroit, Michigan in front of 21,000 fans, the largest crowd ever to witness a hockey game at that time. They cheered and roared for 4 straight minutes. Asked to reflect on this overwhelming moment, Howe responded: "I was very emotional and the fans were getting to me… I had the same feelings for the fans as they had towards me."
Guiding Questions
Recommended Age: Grade 3 and up
The hockey player is suited up in typical hockey gear, except for one important element–she is not wearing a helmet and her long hair whips around her face as she skates from one end of the ice patch to the other.

Why do you think the artist chose to outfit the main figure in this way?

Do you think the people in the cheering crowd are really there, or are they a figment of the hockey player's imagination?
What do you imagine the player is feeling in the first half of the film when she is alone, versus the second half when the crowd is cheering her on?

If you could ask the artist a question about the piece, what would you like to know?
Tilia Americana
Megan Rooney
April 4–April 17
For Tilia Americana (2014), artist Megan Rooney created a set of five sequential, multi-framed videos with an accompanying narrated text. The videos incorporate elements of drawing, sculpture and performance, portraying women obscured by water-coloured pillow cases in different suburban situations. The audio track accompanying the videos is a voiceover of the artist reading a fractured and dreamlike prose poem.
Guiding Questions
Recommended Age: Grade 10 and up
Note: Film contains some sexually explicit audio content. 
Watch Tilia Americana with a friend (in person or over video chat) and use the guiding questions below to start a discussion about the piece:
Tilia Americana is the scientific name for a Basswood tree, which is common in Southern Ontario. Why do you think Megan chose this title for the film?
The film has three layers of content – two video frames playing simultaneously, as well as a voiceover of the artist reading a poem-like narrative.

What do you see in the background?
How does it contrast from what you see in the foreground?
Where does your eye go?
How does the combination of all three elements add meaning for the viewer?
Do you find that the voiceover pairs better with the scenes of the masked women, or the scenes of suburbia in the background?
Why are the women wearing pillowcase masks and why did Rooney choose to paint exaggerated faces as opposed to more realistic ones?
Rooney's work often contains references to suburban life.

What is a suburb?
How does geography affect the way we live?
What do you think of when you think of "suburbia?"
Do you have any strong feelings or connotations, either positive or negative?
At the start of the film, one masked woman is shown alone in bed. Throughout the film she is joined by a second masked woman in a car, then a hot tub, a patio, and finally on a picnic blanket on the grass. As they go progressively into more "public" spaces, they also get physically closer. They are shown not touching in the car, hot tub, or patio, but as they lie on the picnic blanket, their hands inch closer together. The final frames show them embracing one another. What do you think this could represent? Could this suggest yet another layer of narrative?
If you could ask the artist a question about the piece, what would you like to know?
SHADOWBANNED
Jon Rafman
March 28–April 10
The second Shift Key offering is SHADOWBANNED (2018) by Montreal-based artist Jon Rafman. SHADOWBANNED combines the aesthetics of internet conspiracy theories, video game footage and a CG recreation of the garden of Bomarzo, to tell the story of an anonymous narrator on an enigmatic journey. The film unfolds across multiple universes wherein dreams are recycled waste products and meaning has been all but lost. The narrator arms himself with artificial memories of artificial pasts in order to protect himself from the future. The work is a meditation on the perception of history and the implosion of meaning in our hyper-accelerated times.
MOCA is working with Jon on an exhibition scheduled for 2021 and thanks him for sharing this work with us at this time.
Leviathan Cycle, Episode 1: Ben
Shazad Dawood
March 21–27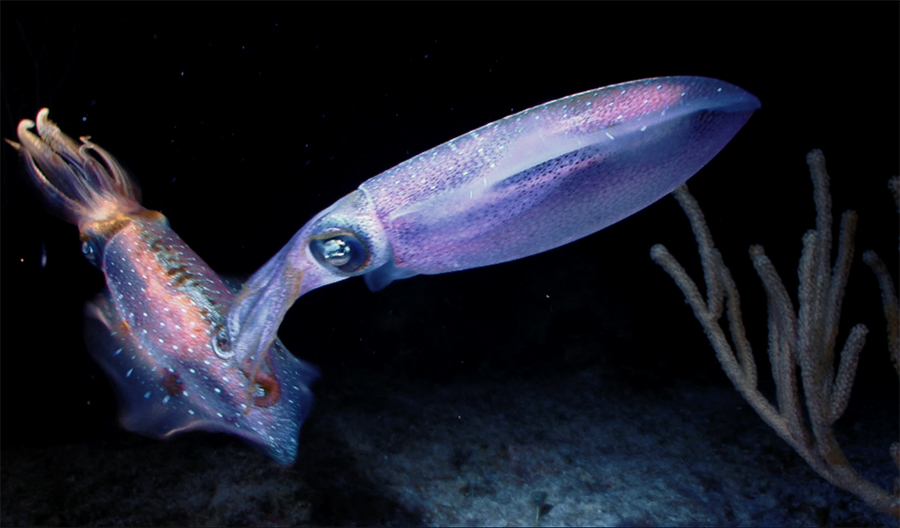 The first Shift Key offering is Shezad Dawood's, Leviathan Cycle, Episode 1: Ben (2017). MOCA exhibited elements from Shezad Dawood's Leviathan, an ambitious ten-part film cycle in fall 2019; the first episode can now be watched in full on MOCA's website from Saturday, March 21–Friday, March 27. Dawood's episodic "monster" encourages us to contemplate urgent issues, expands upon diverse research and bridges disciplines and borders to include local voices within a global forum.
"The world was ending as it had been doing for millennia." The pilot episode, Ben, in Dawood's epic film series combines found footage with new film and images, set against spoken word with a powerful soundtrack. We are plunged into a near future where a solar disaster has wiped out a large part of the human population. The protagonist, Ben, reminisces about his childhood spent roaming the back corridors of the Natural History Museum in London (containing, amongst other marvels, Darwin's original specimen jars from the Beagle expedition), and his youthful fascination with the giant squid preserved in the Marine Research labs.
Learn more @leviathancycle's Instagram.
Image: Shezad Dawood, Leviathan Cycle, Episode 1: Ben, 2017. HD Video, 12′52″.