Halloween is here, and what better time for a pumpkin painting activity? Pumpkin painting is a great (and safe) alternative to carving, and can be done with small and large pumpkins alike! We have teamed up with artist Stephanie Bellefleur, who created a design that you can use as a template or stencil when painting your pumpkin.
Stephanie is one of the artists currently working on the Michael Lin painting installation Archipelago, and drew inspiration from Lin's work to create the pumpkin designs.
Michael Lin is a Taiwanese painter known for large-scale installations featuring colourful, often floral-like patterned motifs taken from Taiwanese, Indonesian and quasi Hawaiian textiles. MOCA has commissioned Lin to produce a site-specific painting project for the museum's entrance floor, entitled Archipelago. The work at MOCA is being brought to life by local artists, and their painting process is open for visitors to watch, as the patterns become more intricate and colourful.
Stop by MOCA to see the team of painters team bringing the work to life firsthand! Then, back at home, decorate and paint a pumpkin using the floral designs created by Stephanie!
You will need:
Pumpkin
Paints (If you don't have paint at home, Sharpie markers will work too!)
Paintbrushes
Design inspiration – feel free to use Stephanie's designs as a starting point. See PDF below: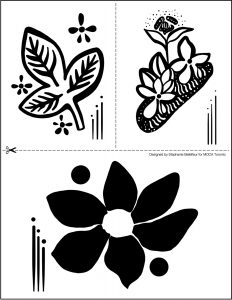 Some tips for painting pumpkins:
Use a tiny paintbrush to paint between the folds/crevices of your pumpkin.
Try painting a base colour first, and let it fully dry before adding your next layer of paint.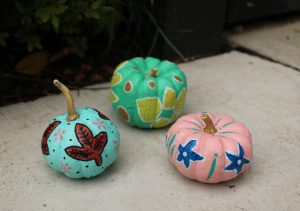 Share your painted pumpkins on social media and tag us @mocatoronto!
About the Artist
Stephanie Bellefleur is a contemporary visual artist of colour, born in Venezuela. Stephanie's practice incorporates bold colours with strong graphic lines, and her work has ranged from ground-level community-engaged projects, to large-impact projects (up to 23 stories) alongside international artists. She is committed to accessibility in her work through public art place-making. Stephanie's mission is to celebrate and unify communities, both through her artistic practice and her professional experience with ties to city building, civic engagement, and street-art culture. She is humbled to serve the public in order to continue to widen the spectrum of unity and colour within the arts sector.