Past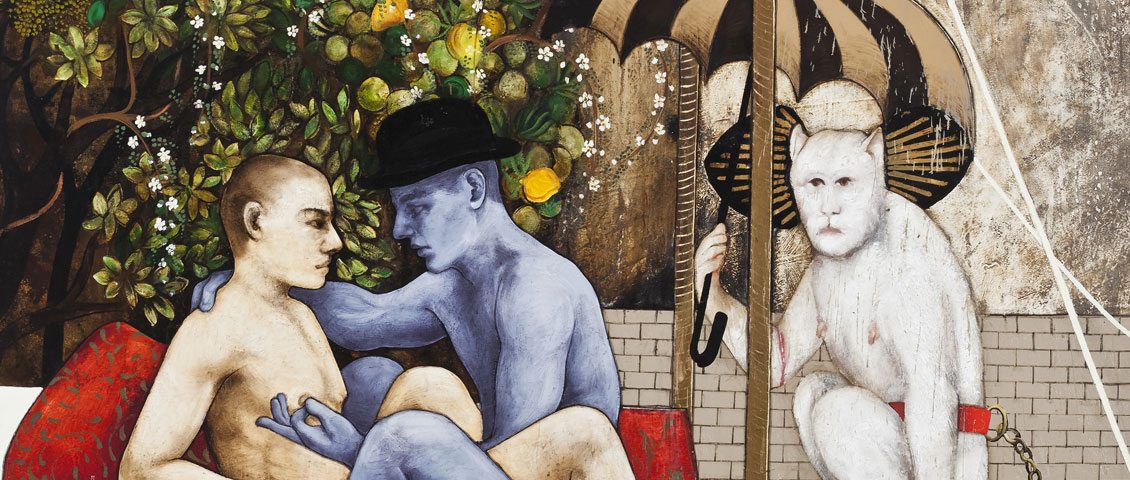 June 22 – August 17, 2014
from the collection of Salah Bachir and Jacob Yerex
Over the Rainbow is a group exhibition of artworks drawn from one of Toronto's most significant private collections of contemporary art. The exhibition features works from well-known Canadian and international artists, including Stephen Andrews, Attila Richard Lukacs, Public Studio, Justine Kurland, Betty Goodwin, General Idea, Andy Fabo, Andy Warhol, Keith Haring, Annie Leibovitz, Herb Ritts, and many others.
The exhibition represents a modest selection of works from the collection of Salah Bachir and Jacob Yerex, by both queer and heterosexual artists, broadly assembled around the themes of seduction and identity. Grouped together the exhibition presents works, mostly in drawing, painting and photography, which acknowledge certain archetypes associated with Queer Culture, drawing relationships between a historically marginalized culture and mainstream culture, and ways in which these have influenced each other. By focusing on reciprocal influences and relationships, and presented within the context of WorldPride 2014 Toronto, the thematic approach is meant to consider commonalities of human experience over opposition and difference.
"Art is such a powerful medium for expression, and often chronicles the challenging and important issues of our time. We are proud to partner with MOCCA as they bring together pieces from the personal collection of Salah Bachir and Jacob Yerex, long time generous supporters of the LGBTQ community in Toronto."  – Chrystal Dean, WorldPride Manager.
Image: Attila Richard Lukacs, Coo coo ka-choo, Mr. Robinson (detail), 1999. Collection of Salah Bachir and Jacob Yerex. Photo: Toni Hafkensheid
Installation Shots
Saturday June 21, 7 – 10 pm
Promotions

Over the Rainbow is generously sponsored by:
BMO Financial Group
Cineplex Media
Joe Fresh
Scotiabank